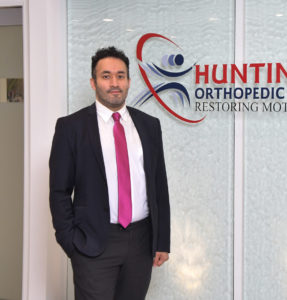 Dr. Murtaza (Mort) Rizvi, M.D., is an experienced Hand Surgeon and Plastic Surgeon, specializing in hand surgery and craniofacial surgery, providing skilled, state-of-the-art care for adult and pediatric patients throughout the Pasadena, CA, and the Los Angeles area. Dr. Rizvi practices at HUNTINGTON ORTHOPEDICS®, a top-ranked provider of the most advanced orthopedic options treatment options for hand fractures and pain, carpal tunnel syndrome, trigger finger.
The practice also provides physical therapy services and both traditional and minimally-invasive surgical options including arthroscopic surgery for joint replacement and other issues, as well as innovative PRP therapy to promote natural healing responses following disease, injury or surgery.
After earning his medical degree at University of Maryland Medical School, Dr. Rizvi completed a surgical internship at York Hospital, followed by a general surgery residency at University of Maryland Medical System and a plastic and reconstructive surgery residency at Methodist Hospital-Houston. He has also completed two fellowships, one in hand surgery at LAC+USC Medical Center and a second in Craniofacial & Pediatric Plastic Surgery at Children's Hospital Los Angeles. Dr. Rizvi is dedicated to providing each patient with optimized care based on their unique needs and treatment objectives for the best possible outcomes.